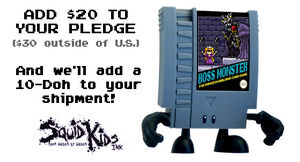 10-Dohs are figures shaped like Nintendo Entertainment System cartridges made by Squid Kids Ink.
Four of these figures were made to be Kickstarter Exclusives; three of them were included at specific pledge levels, and one was available by paying $20.
The 10-Dohs given as pledge rewards featured a mash up of the cards Teleportaion and King Croak, on either a grey, black, or golden case design (depending on the pledge level).
The purchasable 10-Doh featured a mash up of the cards: Princess in Peril and Xyzax. All of these figures featured a grey background.
After the Kickstarter ended on November 18th none of these figures were acquirable new.