Belladonna is a
Boss
card that will be introduced in
Boss Monster 2
.
Strategy
Edit
Belladonna's Level Up ability is best used later on when the player has accumulated a few wounds, so building the maximum five rooms is best left when the Ability is needed the most, especially when Epic Heroes come to town, as this ability also works on Epic Heroes, thus allowing the player to heal two wounds.
This also allows the player to build up four rooms that can potentially all be Advanced Rooms before using their Level Up Ability.
Belladonna was featured in a season greetings from the brothers in 2014.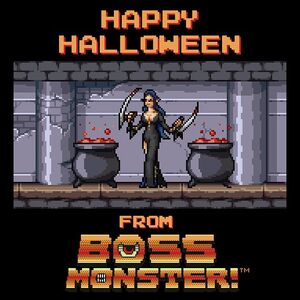 Ad blocker interference detected!
Wikia is a free-to-use site that makes money from advertising. We have a modified experience for viewers using ad blockers

Wikia is not accessible if you've made further modifications. Remove the custom ad blocker rule(s) and the page will load as expected.