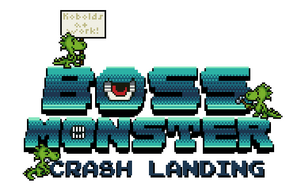 Boss Monster: Crash Landing will be Boss Monsters first standalone expansion. While the
Base Set
focused on parodying and troping fantasy games Crash Landing is supposed to instead be about Sci-Fi games. Consisting of about 150 cards this expansion is supposed to be playable by itself as well as with the Base Set and
Tools of Hero Kind
.
Before the expansion can be produced Brotherwise Games has said that it will need to have its own Kickstarter.
Brotherwise Games has stated that Crash Landing will use the same Treasure Types as the Base Set but may add one extra Treasure Type.
They also stated that Hybrid-Heroes will also be showing up in Crash Landing. Previously they were only featured as Promo Cards.
While no actual cards have been shown from Crash Landing, in the Strategy Guide an alien with two tentacles can be seen. The alien is presumed to be a Boss, though it is not officially known.
Ad blocker interference detected!
Wikia is a free-to-use site that makes money from advertising. We have a modified experience for viewers using ad blockers

Wikia is not accessible if you've made further modifications. Remove the custom ad blocker rule(s) and the page will load as expected.