Dark Laboratory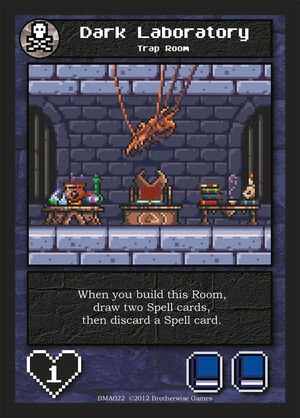 is a
Trap Room
in the
Base Set
. It is the only Room in the Base Set to have two
Mage Treasures
.
Object art by Francisco Coda.
Background art by David Nyari.
When discarding, you may discard any spell card from your hand, not just the ones you drew.
Strategy
Edit
A card meant for simply getting access to Spell cards, and to act as a decent lure for Mage Heroes. Otherwise, this card is good as 'ammo' for cards like Boulder Ramp.
This card also works well with Dark Altar, as Dark Altar can be destroyed so as to get back a Spell card discarded due to Dark Laboratory's effect.
Ad blocker interference detected!
Wikia is a free-to-use site that makes money from advertising. We have a modified experience for viewers using ad blockers

Wikia is not accessible if you've made further modifications. Remove the custom ad blocker rule(s) and the page will load as expected.