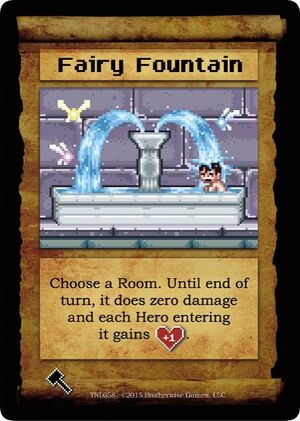 Fairy Fountain is a Spell card that will be introduced with Boss Monster 2.
This card makes a reference to fairy fountains found in the Legend of Zelda. It is recommended to place the card above the chosen room when it is activated, partially to act as a reminder for the players so as to make sure the card's effect is being followed. And by the end of the turn, the card can be discarded.
Ad blocker interference detected!
Wikia is a free-to-use site that makes money from advertising. We have a modified experience for viewers using ad blockers

Wikia is not accessible if you've made further modifications. Remove the custom ad blocker rule(s) and the page will load as expected.