Goblin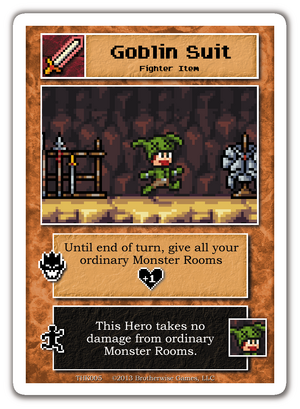 Suit is a
Fighter Item
in the
Tools of Hero Kind expansion
.
"Ordinary" refers to all Basic Monster Rooms. Advanced Rooms are not ignored for the Hero ability, and are not part of the bonus for the Boss ability.
The artwork portrays a Hero wearing the skin of a dead goblin. This could be seen as a parody of classic power-up suits like Mario's Tanooki Suit.
Goblin Suit was originally a Universal Item and became a Fighter Item over the course of playtesting and development.