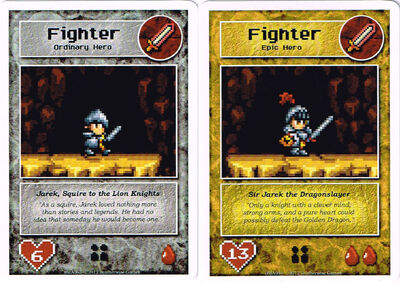 Jarek is a
Fighter Hero
included in the Base Set and
Alpha Prototypes
respectively. He has an
Ordinary
and
Epic
version. The Ordinary version is included in the Base Set; however, the Epic version was only included in prototypes.
Character art by Francisco Coda.
Background art by David Nyari.
For the actual Base Set card, 'Jarek, Squire to the Lion Knights' go here.
Ordinary Hero
"As a squire, Jarek loved nothing more than stories and legends. He had no idea that someday he would become one."
Epic Hero
"Only a knight with a clever mind, strong arms, and a pure heart could possibly defeat the Golden Dragon."
Ad blocker interference detected!
Wikia is a free-to-use site that makes money from advertising. We have a modified experience for viewers using ad blockers

Wikia is not accessible if you've made further modifications. Remove the custom ad blocker rule(s) and the page will load as expected.