Kaw'nee is a
Boss card
and a
Kickstarter
Exclusive
Promo Card
.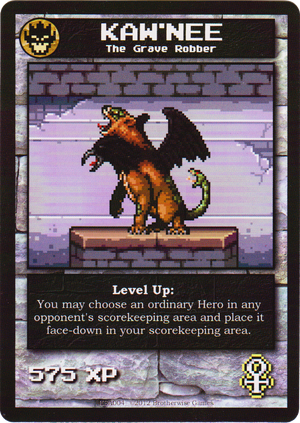 Strategy
Edit
Kaw'Nee's Level Up Ability can be used at any time, when the player has enough rooms built to activate it at will. However, it can also be used to immediately steal a Hero an opponent may have earned during their last turn, or during the final turns of a game when an opponent may win, or when the player needs a Soul to win.
Kaw'Nee is a chimera, which contrary to popular belief, is actually any sort of monster that is comprised of various animal parts, such as a griffin.
Technically, a platypus could be considered a chimera.
Ad blocker interference detected!
Wikia is a free-to-use site that makes money from advertising. We have a modified experience for viewers using ad blockers

Wikia is not accessible if you've made further modifications. Remove the custom ad blocker rule(s) and the page will load as expected.