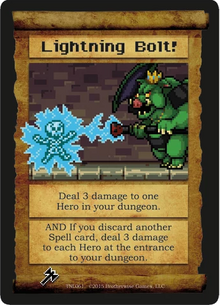 Lightning Bolt! is an Epic Spell introduced into Boss Monster: The Next Level
Strategy
Edit
A card that is meant to deal a little damage to a Hero that might potentially survive the player's dungeon.
Alternatively, a player can discard another Spell card from their hand to deal 3 damage to all the heroes at the entrance of the user's dungeon. This makes it handy for dealing with hoards of Heroes that come to your dungeon, even on hoards of Epic Heroes.
This card features Porkus attacking a hapless Hero with this Spell.
The Epic effect of this Spell card seems to play off the idea of chain lightning, a popular buff to lightning spells in many fantasy game settings as it allows players to strike multiple enemies at once with one attack.
Ad blocker interference detected!
Wikia is a free-to-use site that makes money from advertising. We have a modified experience for viewers using ad blockers

Wikia is not accessible if you've made further modifications. Remove the custom ad blocker rule(s) and the page will load as expected.