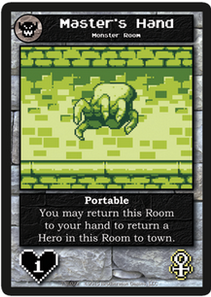 Master's Hand is a Cleric Monster Room introduced in the Portable Power Expansion Pack. Backers who opted for the Collector Box during the Boss Monster: The Next Level Kickstarter will get access to the Portable Power Expansion early. The expansion will be available for sale later on.
Like other Portable Rooms, the color palette of this card matches and is made to mimic the screen color of a classic Game Boy.
Strategy
Edit
This card is best built in the late rooms of a dungeon, in case a Hero is able to survive the player's dungeon. And with this card, the player can send the hero back to town while preventing a wound. Thanks to the Portable effect, this card can be brought back to the players hand during the Build Phase, and could even be placed down again during the same turn, in a different spot.
The Master's Hand actually makes a reference to an enemy from the Legend of Zelda series, the Wallmaster, which is an undead hand that will try to grab Link and send him back to the entrance of the dungeon he is in.
The name itself also makes a slight reference to the regular antagonist of the Super Smash Bros series, Master Hand.
Ad blocker interference detected!
Wikia is a free-to-use site that makes money from advertising. We have a modified experience for viewers using ad blockers

Wikia is not accessible if you've made further modifications. Remove the custom ad blocker rule(s) and the page will load as expected.