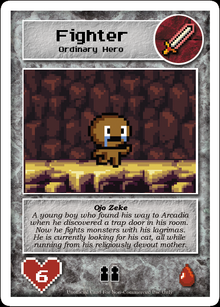 A Hero created by Ljlmitch.
Based off of the titular character of The Binding of Isaac, Ojo Zeke's name is a pneumatic device of "Eye Zeke", and the word "eye" translated into Spanish, which then lends to the whole of the Confinement of Ojo Zeke series.
The Binding of Isaac is a game made by Edmund McMillen. The original basis of the four original characters were based off of the classic RPG classes of fighter, mage, thief and cleric.
Ad blocker interference detected!
Wikia is a free-to-use site that makes money from advertising. We have a modified experience for viewers using ad blockers

Wikia is not accessible if you've made further modifications. Remove the custom ad blocker rule(s) and the page will load as expected.