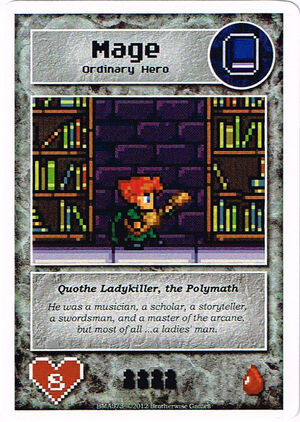 Quothe Ladykiller, the Polymath has an 
Ordinary Hero
 and an
Epic Hero
 version. The Ordinary hero is part of the 
Alpha Prototypes
. The Epic Hero was given out during
GenCon
2013.
Character art by Johnny O'Neal.
Background art by David Nyari.
He was a musician, a scholar, a storyteller, a swordsman, and a master of the arcane, but most of all ... a ladies' man.
This Hero would seem to be referencing Kvothe, a red headed musician, scholar, storyteller, swordsman and master of the arcane character from author Patrick Rothfuss' fantasy series, 
The King Killer Chronicle
.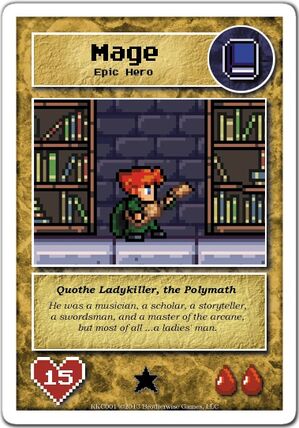 Ad blocker interference detected!
Wikia is a free-to-use site that makes money from advertising. We have a modified experience for viewers using ad blockers

Wikia is not accessible if you've made further modifications. Remove the custom ad blocker rule(s) and the page will load as expected.