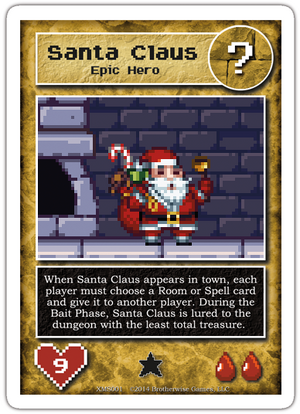 Santa Claus was created as a Print & Play promo during the Digital Boss Monster Kickstarter campaign. It was released on December 24th, 2014. It is the first Hero to have 9 base Health. This card is currently available from DriveThruCards.com as part of their partnership with Brotherwise Games.
Ad blocker interference detected!
Wikia is a free-to-use site that makes money from advertising. We have a modified experience for viewers using ad blockers

Wikia is not accessible if you've made further modifications. Remove the custom ad blocker rule(s) and the page will load as expected.