Tieg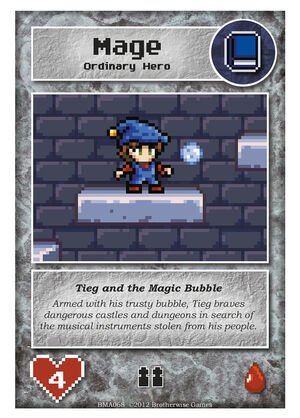 is an
Ordinary
 Mage hero included in the
Base Set
. The card was comissioned by Tieg Zaharia through
Kickstarter
.
Character art by Francisco Coda.
Background art by David Nyari.
Armed with his trusty bubble, Tieg braves dangerous castles and dungeons in search of the muscial instruments stolen from his people.
The character appears to be a reference to Milon from Milon's Secret Castle.
Ad blocker interference detected!
Wikia is a free-to-use site that makes money from advertising. We have a modified experience for viewers using ad blockers

Wikia is not accessible if you've made further modifications. Remove the custom ad blocker rule(s) and the page will load as expected.