Trap Master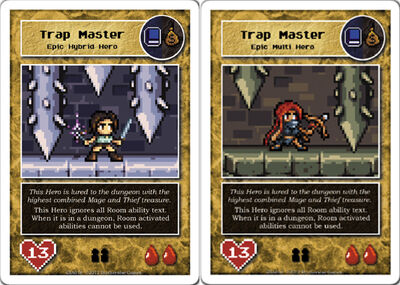 is an 
Epic
Hybrid Hero
and a
Kickstarter
Exclusive
Promo Card
.
She is one of only two known Heroes to have multiple Treasure Types. She is also one of only two Heroes with a power similar to Item cards.
A player does not have to have both treasure types to pull this Hero, only needs to have the most combined.
The ignored ability is only the text of the card, not the damage.
In the Alpha version of the card the character Scarlet Anja was used as the Trap Master. Also, in the Alpha Heroes wtih multiple Treasure Types were called 'Multi Hero' instead of 'Hybrid Hero'.
Later it was changed to what seems to be a reference to Lara Croft From the Tomb Raider Series.