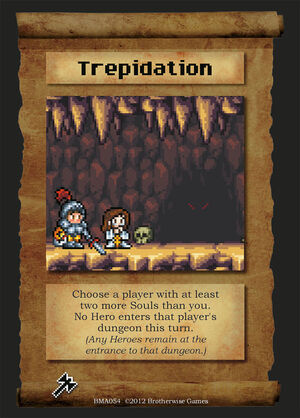 Trepidation is a
Spell card
in the
Base Set
.
Character art by Francisco Coda (edited by Kyle Merritt).
Background art by David Nyari.
This Spell does not prevent Heroes from being lured to a Hero's dungeon. It keeps any Heroes at the entrance waiting there for an additional turn.
Ad blocker interference detected!
Wikia is a free-to-use site that makes money from advertising. We have a modified experience for viewers using ad blockers

Wikia is not accessible if you've made further modifications. Remove the custom ad blocker rule(s) and the page will load as expected.