Vampire Bordello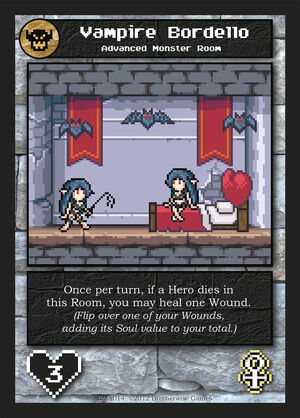 is an
Advanced Monster Room
in the
Base Set
.
Character art by Francisco Coda.
Background art by David Nyari.
Per the Rulebook, the definition of "Heal" is to take 1 face-up Hero and place it face-down (turn a Would into a Soul).
The Hero may be a Basic or an Epic Hero.
Strategy
Edit
A card best built in the later rooms of a dungeon (rooms 3 to 5) so as to activate the effect of this card more efficiently. Cards that can boost the damage output of Vampire Bordello allow the card's effect to occur more frequently.
"Calling it a bordello is really just a typical example of the sort of dark humor heroes are known to employ. The illusions cast by hungry vampires might seem inviting enough, but you won't find pleasure between those sheets."
-Excerpt from the Strategy Guide