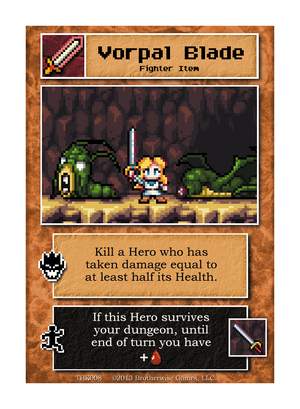 Vorpal Blade is a Fighter Item in the Tools of Hero Kind expansion.
At the end of turn during the Wound Check, if you have 4 wounds and a Hero survived your dungeon with this Item, you lose the game. If not, the extra Wound disappears before the beginning of the next turn.
When using this Item's Boss ability, you may target any Hero (even one who has been returned to town or a dungeon entrance). If you kill a Hero in town or in your dungeon, place that Hero face-down in your scorekeeping area. If you kill a Hero in an opponent's dungeon, place it in that player's scorekeeping area.
For a Hero with an odd number for Health, round up to determine "at least half" (e.g. a Hero with 13 Health must have taken 7 or more damage to be a valid target for this effect.
This card it's a reference to the Vorpal Blade from Alice in Wonderland.
Ad blocker interference detected!
Wikia is a free-to-use site that makes money from advertising. We have a modified experience for viewers using ad blockers

Wikia is not accessible if you've made further modifications. Remove the custom ad blocker rule(s) and the page will load as expected.