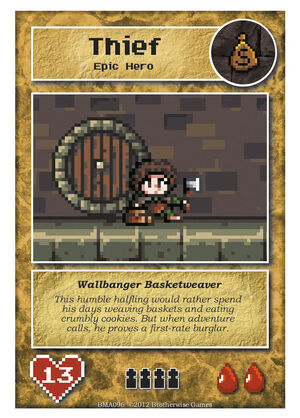 Wallbanger BasketWeaver is an Epic Hero in the Base Set. This Hero was comissioned by EnderWizard. through Kickstarter.
"This humble halfing would rather spend his days weaving baskets and eating crumbly cookies. But when adventure calls, he proves a first-rate burglar."
It's Bilbo Baggins from The Fellowship of the Ring.
Ad blocker interference detected!
Wikia is a free-to-use site that makes money from advertising. We have a modified experience for viewers using ad blockers

Wikia is not accessible if you've made further modifications. Remove the custom ad blocker rule(s) and the page will load as expected.